Rumors of a true GPS in the iPhone fading out. Most probably Bluetooth GPS support and some cool apps to go with it. Where it started and PocketPicks in UK. Via Tech Digest

From jkOnTheRun what Nokia N800 looks like, YouTube has a good 13 mins "open-the-box" experience. The N800 NavKit includes the LD-3W Bluetooth GPS receiver. The video shows how easy it picks a signal, even under a roof.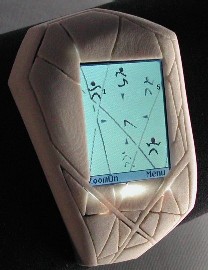 Also Via PocketPicks: New entry from HTC in UK, very iPhonish. Via ItWorld.

Solsie and a video on the Future of the phone from CNET.

Garmin Zuno at GPSLodge.

Germany looking at Public Funds for Galileo.

MIT WatchMe project "a platform for mobile communication and awareness" (photo), via PCMag.

PR Dept

SirfDirect: Dead Reckoning or how to keep track of things while no signal is available. SirfDirect "couples the SiRF star III chipset with acceleration sensors to tell where it's going when GPS signals are blocked". At GpsLodge, GpsPassion, LBSZone and Navigadget.

TomTom now let you fix their maps. At PCMag, GearLog, PR.